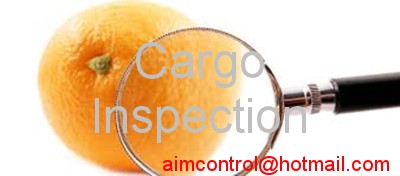 Cargo Inspection / Cargo Survey
Cargo Inspection / Cargo Survey Services
Cargo inspection carried out at loading of exporters, cargo survey performed at discharging ports of importers.
AIM Control's Cargo Inspection / Cargo Survey services, Cargo Inspection called pre-exporting inspection or PSI, and Cargo Survey also called pre-importing survey for AIM Control's clients buy from the suppliers. To order AIM Control's cargo inspection or cargo survey services, please kindly contact at: Email: aimcontrol@hotmail.com, inspection@aimcontrolgroup.com, cell: +84903615612.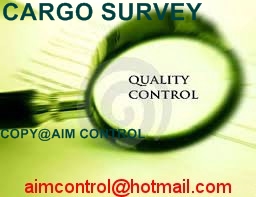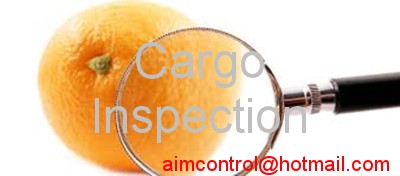 Place of AIM Control's cargo inspection services: - at the Supplier's premises and warehouse, seller's factories, manufactories, place of shipment loading/ stuffing into containers, port of shipment loading, on board of marine vessels, ships.
Place of AIM Control's cargo claim survey services: - at the Receiver / Buyers premises, Consignee's warehouse, Port's yards, place of shipment discharging/ des-stuffing, port of shipment unloading, on board of marine vessels, ships.
Time of AIM Control's Cargo Inspection / Cargo Survey services: before/after and at the time of loading/ stuffing, unloading/ un-stuffing / discharging.
Scope of AIM Control's Cargo Inspection / Cargo Survey services: There are 02 stages of Cargo Inspection/ Cargo Survey services, namely:
AIM Control's cargo inspection services of cargo: (before/after & during and loading/ stuffing at country's exporting)
AIM Control's cargo survey services of commodity. (before/after & during and discharging/ des-stuffing at country's importing)
AIM Control Survey and Inspection Group has much experience in the inspecting & controlling, testing & analyzing, tallying & monitoring, surveillance & surveying, supervising & consulting, investigating & adjusting, auditing & appraising, certificating & approving, verifying & identifying, measuring & calculating, tallying & computing, expertise & witnessing, warranting & undertaking; expediting & conducting, salvaging & recovering, risk reducing & loss preventing services for 30 yrs on various of cargo, all types of commodity and products at foreign countries and domestic clients under an independent actions. With professional staffs, AIM Control has become a leader and strong player in this field.
We have branch offices are of world-wide with target to bring the best services to the clients. Customer's satisfaction is an important key for companies to develop so we need a management system especially a quality management system. We maintain a Quality Management System - Standard ISO 9001-2008.
AIM Control's certification services may be used as legal proof to settle merchandise, purchase, insurance claim, liquidation and other imported/ exported related difficulties.
Facing with opportunities, challenging and difficulties in the high competitive market, AIM Control endeavors to diversify services of inspection, survey based on core competence and always applies appropriate knowledge and technology to enhance our competitiveness. With an open management system, we hope to provide the highest standard of inspection/survey/ expediting services to the customers with our quality policy:
Fast – Accuracy
Impartial – Independent
Continual Improvement of the Effect
Reducing Commodity Cargo Merchandise Risk around the world through independent inspection and testing services.
AIM Control's Goods Inspection / Commodity Survey Jobs are provided to help client to protect high value commodity cargoes, significantly reducing risk of loss exposure to the trading parties involved.
Cargo Inspection occurs during production, loading, critical transportation, custody transfer and storage operations, discharging. With a long track record of experience and success, AIM Control has been providing cargo inspection services since 1993 and performs inspection services to global industry standards and other recognized criteria.
Measuring during cargo verification / cargo investigation on quantity and quality:
High value commodities like crude oil, fuels, chemical, edible oils, grains and many other products are measured, analyzed and verified for shipment and inventory quantity and quality. AIM Control's Inspectors and Surveyors conduct the surveying and sampling on representative product (AQL). AIM Control's experienced inspection follow accepted industry and regulatory methods and practices to obtain accurate, reliable and repeatable results. Aiming to verity the defects, damages . . .
Pre-shipment inspection / Monitoring of production/ supervision of loading:
AIM Control Inspection Survey Testing Group also provides Pre-shipment inspection services: quality testing, certificate of product, monitoring of production, marks checking & packaging inspection, cargo tally of quantity according to packing list, supervision, monitoring loading/unloading cargo, photos of the products of Purchase Order (PO), and model, labels, boxes, opening boxes (at least 5%) for inspecting. . photos of container, half cargo loaded and fully cargo loaded, and the containers lock.
Sealing of container, collecting of document, B/L, packing list, Invoice, Certificate of Original. . .on cargo survey, commodity inspection, goods testing, product certification, equipment inspection, sampling at the warehouse, vendor, factory, ports and associated operation.
This inspection activity of the AIM Control focuses on the Inspection/Testing/Certificate of materials and production, packaging, loading for the consumer goods, foods processing industry, handicraft products.
Vendor Inspection / Quality Testing / Witness:
AIM Control is providing the independent inspection, innovated quality assurance, and consulting services in field of mechanical, gas and oil, chemical, petrochemical projects, and navigation engineering. These services include lab. analysis, assessment and monitoring of material component, operation, equipment, structure, construction, and general cargo.
Our service definition is that our expediters ensure that all aspects of production are monitored and reviewed to ensure that all avenues are examined and considered with a view to Customer delivery requirements being achieved.
So you may reserve all rights by law and save money by choosing the right third party independent inspection services of AIM Control.
Project manager
AIM Control also provides engineering services in research project, quality assurance procedure, troubleshooting, product/project assembly, performance, effective economic plant design and systems for controlling chemical, petrochemical, mechanical operation/system, cost cut, strong technical support, etc.
These activities of the AIM Control focuses on the expediting and inspection, NDT of materials and construction for the petro-chemical industries and heavy industries
Marine Survey/ Loss Adjusters / Consultant
AIM Control also provides marine surveyors to control the damage/loss cargo, draft survey, loading supervision, prevent loss/ damage survey, discharging survey, tally of quantity, insurance Survey, P& I insurance Correspondents and claim investigation loss surveys . . .
The followings are our evidence of AIM Control's Cargo Inspections on Pre-shipment & loading services at Supplier's Vendors & Premise: