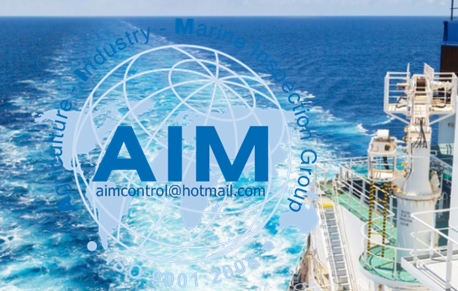 Marine ship equipment and radio services
Marine ship equipment and radio services surveys and certifications
AIM Control's marine ship equipment and radio services are completely flexible and a client may, of course, choose to use all or only part of these services. the marine integrated systems team can consist of master mariners, marine engineers, port state control inspectors, port wardens, tackle inspectors, naval architects, hull/coatings/outfitting inspectors, marine supervisors, mechanical, electrical, design engineers and marine safety and security inspectors. all are selected by us to provide the highest degree of expertise and service for each project, as per the clients requirements. email: aimcontrol@hotmail.com, survey@aimcontrolgroup.com,inspection@aimcontrolgroup.com, cell: +84903615612.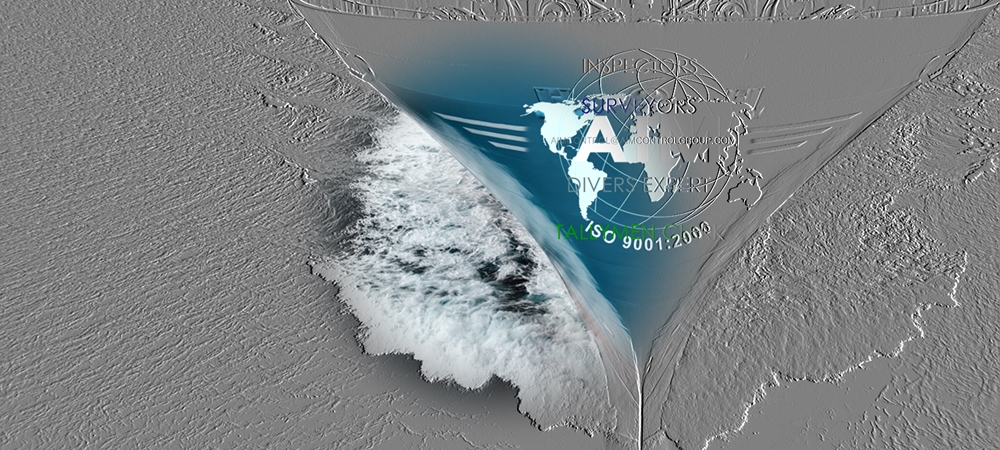 Whatever your needs, our Marine Integrated Systems can find offer you a solution that is right for you!
AIM Control's staff of highly trained and experienced professionals can offer a wide range of marine services to our clients. From Marine Engineers to Master Mariners, from Superintendents to Senior Marine Inspectors, from Port Captains to Port State Control Officers, we have what it takes.
Our experienced marine technicians are in a position to conduct almost all kinds of electrical issues on vessels and their equipment. By attending various training courses put on by the manufacturers, our technicians are always improving their skills and abilities.
The ability to attract, develop and retain the best people is key to AIM Control's Marine Integrated Systems continuing success. We have brought in the top people in their fields from within Vietnam and abroad, ensuring Marine Integrated Systems has a global perspective on it's marine services.
Main marine services:
Marine services of Ship New Building supervision and surveys

Marine Vessel Repairs witness and supervision, surveys

Marine Automation survey and consultancy

Marine services of Electrical survey and consultancy

Marine services of Electronics survey and consultancy

Marine services of Pneumatic survey and consultancy

Marine services of Safety survey and consultancy

Marine services of Audit & Pre-vetting survey and consultancy

Marine services of surveyors and consultant

Marine services of investigation and adjusting

Tally control and supervision

Marine services of Stevedore and stowage

Marine services of Lashing & Securing

Dunnage and material

Bunker and bunkering

Experts and Consultancy

Marine services of UWHC & Diving

Marine services of Agent and supply chain

Port Capt and Loading Master

VESSEL VALUATIONS/ APPRAISALS:
AIM Control is a leader in providing technical and commercial advice to customers across the world from our offices in Vietnam, China, Korea, India, Malaysia, Indonesia, UAE, Asia & Global region over 20 years in these jobs with surveyors are Masters, Captain, Chief Engineers and Marine Experts to quote in a large range of Vessel and ship Asset Evaluations to support AIM Control client requirements including:
Marine services of Appraisal

Marine services of Evaluation of maritime assets

Marine services of Pre-purchase Surveys

Marine Condition evaluation Surveys of vessels/yachts/boats/ engines/ other equipments

Marine Evaluation related to assets mortgage and guaranty

Marine Evaluation for other specific purpose
MARINE SURVEYS / INVESTIGATIONS
AIM Control has extensive experience in Marine services and survey, investigations of incidents/accident for the shipping, shipbuilding, offshore and marine insurance industries, in furnishing reasonable and reliable support to its customers and providing independent, impartial and integral surveying services for the promotion and safeguarding of the safety of life and property at sea and in port. We enable our customers to meet compliance with international requirements. AIM Control's Marine Surveying services include but are not limited to the following:
Marine services of Ship's Hull Inspection & Marine Vessel's machinery surveys (H&M)

Marine and Cargo Protection and Indemnity Insurance surveys

Marine Damage surveys

Yacht surveys

Marine services of Flag state inspections

Marine Crew Accommodation Inspection and issuance of

CA Certificate

according to Panama register

Marine Vessel Full Condition Inspection & Marine Ship Valuation surveys, Marine Pre-purchase vessel condition inspection

Bunker surveys, witness, sampling and analysis.

Marine Vessel Delivery survey and Marine Ship Re-delivery Inspection (On hire survey / Off Hire Surveys)

Marine Oil spill investigation

Marine Ship towage inspection and approval

Marine Vessel's Accident and Marine Ship's Incident Special investigations/Surveys (Marine ship's collision survey, Marine damage survey)

Relative Other Marine Cargo Insurance Surveys (Marine Consultant, Cargo survey, loading surveys, discharging surveys, delivery surveys, Survey and transshipped cargo, loss prevention damage control and supervision, tallying of quantity, weighing, damage cargo survey, draft survey. . . )
Relative Other Pre-shipment inspection and pre-loading Cargo Surveys (Quality control, sampling, testing & analysis, certification, loading supervision, tally of quantity, verification, weighing . . .
Heavy Equipment and oversize construction projects inspections and survey: (AIM Control offers a range of inspection services across all industrial sectors, from inspection of equipment transportation to final installation and placing of equipment in operation: Pre-shipment inspection, Vol. measurement, pre-loading survey, marine vessel loading survey, lashing and securing survey and consultant, unloading securing and lashing surveys, Marine ship discharging inspections, verification of project in operation.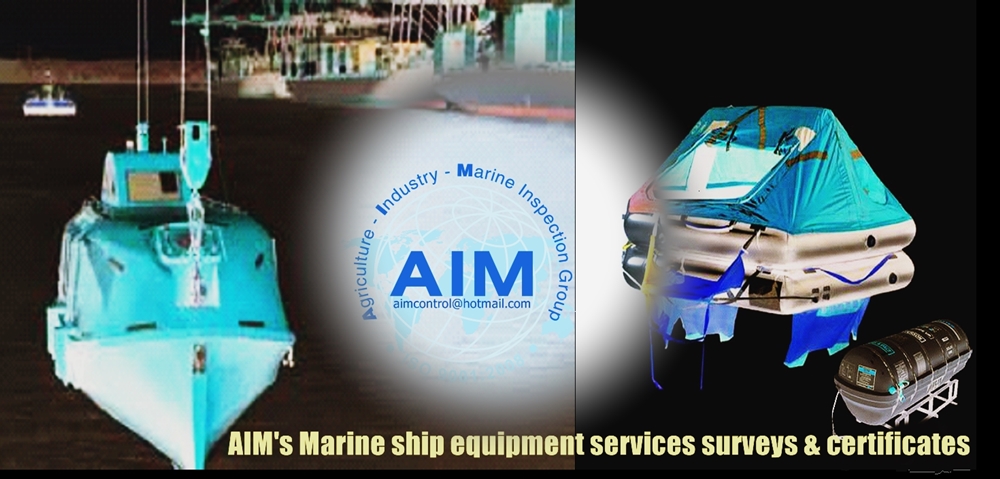 UNDERWATER WORK SERVICES OF REPAIRING, SURVEYS & CLEANING SERVICES
Marine Diving words (Taking of Photos, Camera Monitoring CCTV, Propeller polishing, Marine Ship Hull Clearing in water parts consisting of before and after camera, sea-chest cleaning, underwater construction works, welding, repairing).
NEW MARINE SHIP BUILDING SUPERVISION
Our Experienced, high educated and qualified personnel ensures the implementation of the highest standards which are approved by quality and safety world wide known organizations (ABS, DNV, BV, Lloyd etc ) on the above mentioned works in favor of our clients.
Each member of the team deals with his own special area, advising on design, examining specifications and plans during Stage II in close co-operation with Client representatives, to ensure that the highest contract requirements are achieved. During Stage III our experience construction team will follow up all details to ensure that the final delivered vessel complies with specifications and Client requirements.
AIM Control's management system is based upon a careful follow up of a vessels design, planning and construction up to the point of delivery from the shipyard, in order to ensure complete control over the vessels quality and performance expectations.
Plan approval

Project Management

Site Supervision surveys

Steel cutting & construction surveys

Commissioning equipment & systems surveys

Marine services of Sea trials surveys

Marine Vessel delivery surveys

Marine new Vessel voyage inspection and approval.

Warranty & Guarantee claims
MARINE AUDITING & PRE-VETTING
Let us help identify those areas where your vessel and/or operations that may be falling short and run the risk of being noted for deficiencies, loss of charter or detention.
Our SIRE Pre-Vetting program is based upon the actual OCIMF SIRE Inspection report, and as such we can help you identify and rectify noted deficiencies before your vessel is subjected to an oil major/charterer vetting.
Concerned with your vessels performance under Port State Control, we can carry out a PSC audit of your vessel. Our findings will allow the owner / operator to reduce their vessels risk for deficiencies and possible detention.
We can review your vessels SOPEP and conduct an audit on board to verify compliance with MARPOL and the company procedures.
Safety on board a vessel is always of paramount concern, so we can carry out a safety audit of the equipment and procedures. The drills must be effective and as realistic as possible, the crew trained to respond in an emergency situation. We can provide you with a third party evaluation of this vital aspect of marine shipping.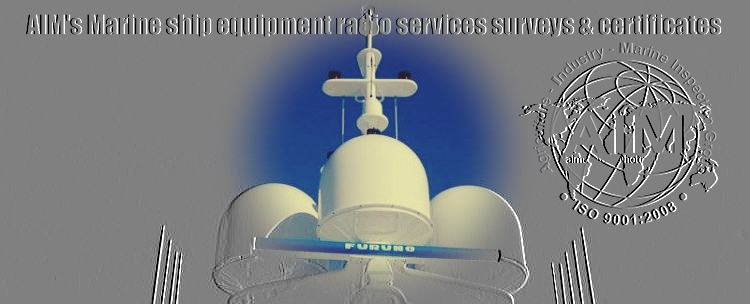 MARINE SHIP EQUIPMENT & RADIO SURVEY SERVICES & RE-CERTIFICATION AFTER EXPIRE
Re-inspection of EQUIPMENT & GMDSS of ship to repair, renewal batteries, re-issue of classification certificates under the authority of Registers and International Classification Societies:
Repairing services for Vessel's Equipment & Radio GMDSS
Intensive repair for marine electronic equipment of vessels
Repairing of equipment of ships
Replacing spares amd & PCBs (if required);
Installing services for ship's Radio GMDSS & Equipment
Installing the entire marine electronic systems on new building ships;
Installing and commissioning for equipment for marine vessels;
Consulting and designing for constructing of electrical and radio systems on board
Testing, evaluating the technical condition and maintaining all marine equipment for ship and vessel.

Classification certifications Issuing's
After repairing or Installing services, The marine ship equipment and radio are certified by the Registers and International Classification Societies which registered by that ship:
American Bureau of Shipping (ABS)

Bureau Veritas (BV)

China Classification Society (CCS)

Det Norske Veritas-Germanischer Lloyd (DNV-GL)

isthmus bureau of shipping (IBS)

Korean Register (KR)

Lloyd's Register (LR)

Nippon Kaiji Kyokai (NK)

Russian Register (RS)

Panama Maritime Documentation Services (PMDS)

Vietnam Register (VR)

Others