Ship accident surveyors incident inspections
Ship accident surveyors incident inspections
Ship accident surveyors incident inspections are Hull survey and Equipment survey– All types of vessel and machinery damage including repairs, dry docking.
The ship accident surveyors incident inspections of AIM Control are carried under the appointment of Underwriter, P&I Clubs, Ship-Owners and Other insurance to identify not only damage / loss of incident on Hull, Equipment and Machineries but also to witness and supervision of repairing, cost of repair, causes of incident and estimates of loss/damage.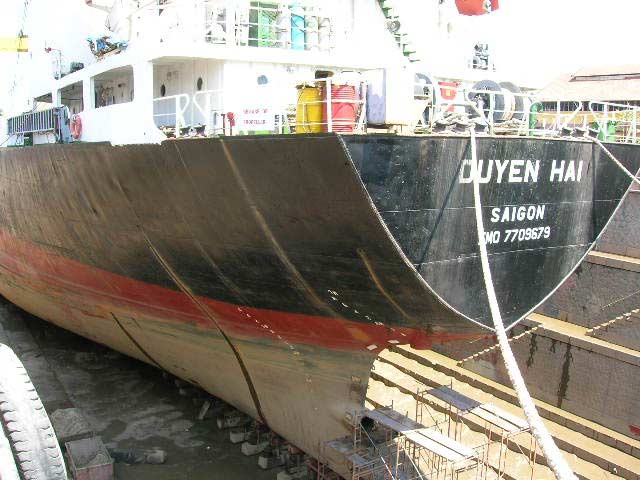 Assistance to shipowners and underwriters with issuance of repair specifications and tender procedures

Claims handling in collision cases, arranging of surveyors inspections and cause investigations, appointments of lawyers and final negotiations

Navigational investigation of collision cases

Loss of Hire surveyors inspections
AIM Control's evidence of one ship accident surveyors incident inspections carried out on the Damaged M/E of M.V STRIAN EXPRESS at sea, Hai Phong Port, Vietnam (anchored)
AIM Control's Marine Hull & Machinery surveyors inspections (Maritime H&M surveyors inspections) also carried to identify condition of vessel and her defects needing to be maintenance pre-entry P&I clubs. AIM Control's Surveyors are a expert in H&M surveyors inspections, namely:
Ship's Machinery and Propulsion Damage and Failures surveyors inspections

Ship Hull Damage surveyors inspections

Damage Assessment / Control

Collision and Grounding surveyors inspections

Fire and Explosion surveyors inspections

Salvage Operations surveyors inspections

Total Loss of Vessel surveyors inspections

Control and Minimisation of Loss
The followings are our main survey of H&M
Insurance, in general, covers damage as a result of an unforeseen and unexpected event. Where P&I insurance companies are intended to insure a ship-owner's liability to others, Hull & Machinery insurance is mainly to cover the ship as the Owners' primary asset. Hull & Machinery and P&I become complimentary in the event of collision liability and damage to fixed and floating objects.
AIM Control's surveyors inspections have been active in the H&M industry since its early days of existence. The Group has a significant track record for surveyors inspections in all kinds of damage, either hull or machinery related, on board deep sea vessels, floating installations, inland navigation vessels etc.
In order to meet our client's expectations, the company employs a large team of naval architects and marine engineers all with extensive experience in ship repair, cost calculation, classification and technical superintendence.
Surveyors inspections can be arranged at short notice using AIM Control's Global Surveyor Network, emailing Survey@aimcontrolgroup.com or contacting Tel: +84903615612.
AIM Control's Hull & Machinery insurance surveyors inspections services in this area include
Establishing the nature, cause and extent of damage to Hull & Machinery

Assist the insurance company or shipowner in co-ordinating to Hull & Machinery repairs

Field (on board) surveyors inspections to inspect damaged areas/items

Study of ship's drawings to assess the original structure for a possible repair estimate

Review and collection of relevant documents from the vessel

Discuss possible repair possibilities in co-ordination with owner's representative/ classification society

Review of repair costs, invoices and disbursements

Issue and co-ordination of repair tenders

Supervision and monitoring of repairs until completion on Hull & Machinery

Prepare of Final Hull & Machinery Report on cause, extent of damage and apportionment (owner's costs or casualty related) and photos.

Providing opinion of possible third party responsibility to the cause of the incident
AIM Control's surveyor will identify "vessel name", IMO Number, Port of Registry, GRT.
AIM Control's surveyor will identify Present at the survey and Representing.
AIM Control's surveyor will identify Schedule of vessel, it is consisting of: The vessel's last port of call, dates; arrived at, dates, discharging commenced & completed, dates, gas freeing commenced & completed, dates, repairs commenced, dates, the vessel docked, dates, undocked, dates, repairs completed, dates, loading commenced, dates, the vessel sailed, dates
AIM Control's surveyor will identify reason of the vessel anchoring or berthing this area.
H&M Survey as held in order to ascertain the nature and extent of damage sustained on the following occasion:
Date of incident – Incident type, date of survey – place of survey
Our surveyor will collect General information of particulars of vessel and from Crew.
Instruction date, Owner name, Operator/Manager, Port of registry, Flag, IMO No, Year built, GRT, DWT, Class, SMC, DOC.. . .

Casualty reported acc. ISM

Previously related incidents
Our surveyor will identify to make a general description of the vessel, and/or equipment related to the casualty
The evidence of ship accident survey on the incident of Fuel Injection Pump of Main Engine carried out by AIM Control Inspection and Survey Group for M.V Au Co at sea of Khanh hoa, Nha Trang, Vietnam.

NARRATIVE
Our short description of the incident, which gave rise to the damage
DAMAGE FOUND and RECOMMENDATIONS FOR REPAIRS
AIM Control's H&M surveyors describe of the findings during the survey, such as damages noted, previous, temporary/permanent repairs carried out attributable to the casualty. It is found and recommended by our surveyor in H&M survey.
GENERAL NOTES
AIM Control's surveyors will expose all of the relative matters to this job were found and collected to explain for concerning parties.
OWNERS ALLEGATIONS
AIM Control's surveyors will collect the allegations of owners and their servant such as superintendent on damage/ loss, repairing. . .
AIM CONTROL'S SURVEYOR'S NOTES
Cause consideration
Cause of damage. If the exact cause is difficult to ascertain, our marine surveyor's opinion of the most likely cause to be stated. If the cause is disputed, the Owners' representative's allegation should also be referred to and our surveyor's reasons for not accepting it.
IN ATTENDANCE
Attending the survey (which party?) and representing (name, position)
PERMANENT REPAIRS
Tendering
If tendering procedures have been executed, the results (table) and Owner's choice of repairers to be stated.
Repairs
A description of the permanent/temporary repairs executed.
Cost of repairs
The above damage has been permanently repaired
DRY-DOCKING
Our surveyor will carry out separately the dry-docking work would have required……..days in drydock
Temporary repairs
Our repair account concerns temporary repairs only
Removal of temporary repairs
Our repair account includes USD/EUR…………… for removal of temporary repairs.
Extra expenses incurred to reduce delay
In connection with this occurrence extra expenses have been incurred by working overtime (1) for an amount of USD/EUR.
Supplied/arranged by Owners
Class, maker's attendance, spare parts etc
Credit
The yard gave a credit of USD/EUR…………………for the condemned…………………………….
General expenses
Docking/undocking
Tugboat assistance
Etc.
Deferred repairs
Detailed repair specification suitable for tendering purposes to be included
Estimated cost of repairs and time to be reported in an Addendum to the Survey Report
Work not concerning average
Concurrently with the average repairs various maintenance works (please make a listed description) was carried out to an amount of USD/EUR
Time for repairs at…………
Total time for repairs from ………. To ………. -………days
If carried out separately the work involved would have required the following time
In Dry-dock, Afloat and Total for each occurrence
Total time for average repairs, Work not concerning average
Summary
Date and place
---------------
OUR ENCLOSURES
"Statement of facts" from Master and/or Chief Engineer

Technical information / drawings

Relevant log book extracts

Relevant Class reports / records

Repairer / specialist's report and invoice

Copy of valid SMC/DOC certificate (with valid endorsements)

Other relevant information, photos etc.
APPENDIX
We are an Independent Inspectors, surveyors and experts providing H&M marine surveyors inspections, Marine survey, Certification based in Vietnam, China, India, Korea, Singapore & Asia, Italy, Germany, U.K Russia & Europe, the Middle East, Brazil, Chile, Argentina & ect., Anywhere of Countries to protect your orders in good condition.
AIM Control's evidence of Ship hull surveyors inspections carried out on the damaged Hull in Ho Chi Minh - Sai Gon Port, Vietnam (Buoying) after collision to another vessel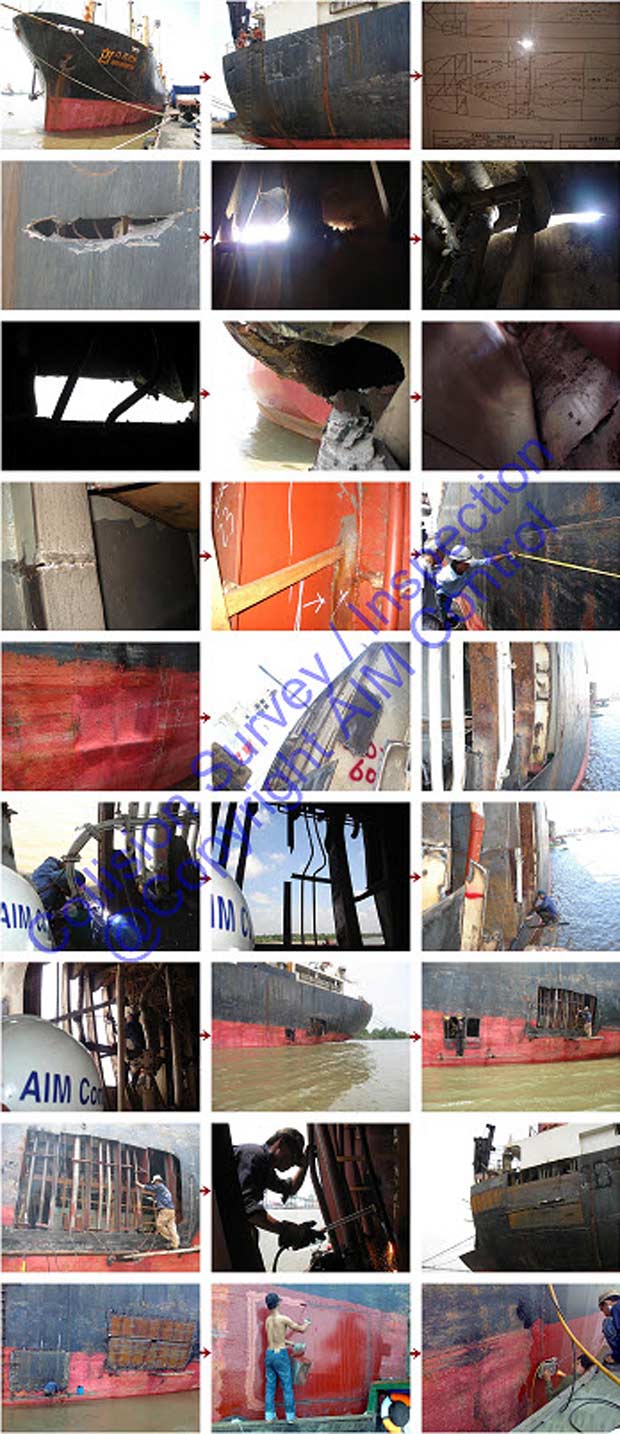 We are also experts in other marine surveyors inspections and cargo inspection providing for P&I Clubs & Underwriters:
Protection and Indemnity – We can cover the full range of P & I surveyors inspections requirements; from a simple cargo survey to a major dock damage or contamination issue.
Condition surveyors inspections – In order to properly conduct this type of survey, state of the art classification society approved ultra-sonic water tightness meters are maintained in-house.
Marine Cargo Insurance (Ocean, FFL and Inland Marine) – All types of cargo surveyors inspections can be undertaken with a view to protecting the underwriter's rights of recovery.